Inside Al Shabab: How the Somalia militant group rules through fear
As the Somalia government fends off militant group Al Shabab, the Al Qaeda-linked insurgency shows its power through intimidation of a whistle-blower.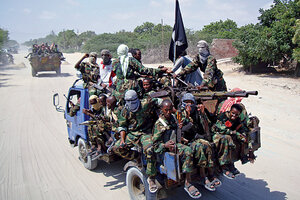 farah abdi warsameh/ap
On Oct. 27, 2008, Ali Abdullahi Egal saw the Al Qaeda-linked militant group Al Shabab stone to death a 13-year-old girl, Aisha Duhulow, under the charge of adultery. The act was not only brutal, but also, in his view, un-Islamic.
The girl had apparently been raped, was not given the right to a legal advocate, and Al Shabab didn't even bother to produce four eyewitnesses before declaring her guilty.
When Mr. Egal, a human rights activist, reported this event to local and international news organizations two days later, it produced an outcry, and helped set in stone Al Shabab's image as a cruel and totalitarian regime in control of large portions of southern Somalia. Within a day, Egal received his first death threat, and then his second.
"They called me on the telephone and threatened me," says Egal, now living in a variety of safe houses in neighboring Kenya. "They said, 'You are working with the kaffir [unbelievers], you work for the CIA and Israeli intelligence.' "
Later, when he reached Kenya, he received a chilling e-mail:
---