Unlike other African nations, Uganda aims to dodge 'oil curse'
After one of the largest oil discoveries in sub-Saharan Africa, Uganda is trying to avoid the pitfalls of other African nations that have become flush overnight with petrol dollars. Many worry that a culture of corruption could stymie these efforts.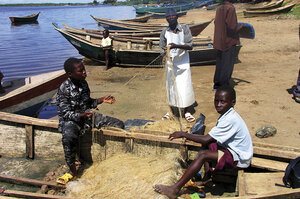 Tim Cocks/Reuters/File
At 2 billion barrels and counting, Uganda's recent oil discovery in the Lake Albert Basin is among the largest ever in sub-Saharan Africa. That might seem cause for optimism, but with endemic corruption and a chain of African nations laid waste by the "oil curse," in which oil often does more harm than good, few here are confusing the oil find with an easy path toward development.
In December, cynicism mounted when parts of the government's production-sharing agreements were leaked on the Internet. The leaks suggest that the deals put a large risk on the government and are overly profitable for the key contracted companies, Tullow of Britain and Heritage from Canada. (Heritage later sold its stake to Tullow, which is expected to sell part of those shares to China National Offshore Oil Corp. and Total of France.)
Critics count that as proof that Uganda may become the next victim of the oil curse. But the gloom may be premature. "Experience has shown that normally the problem is not the production-sharing agreements, but rather the revenue management," says the World Bank country manager for Uganda, Kundhavi Kadiresan.
Maximizing oil revenue's potential
---