Serengeti homecoming: yes, Black Rhinos can fly
Six Eastern Black Rhinos will be airlifted from South Africa to the Serengeti plains in Tanzania on Friday. They are part of an ambitious effort to double the number of rare Black Rhinos in the Serengeti.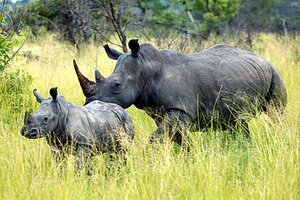 Melanie Stetson Freeman / The Christian Science Monitor / File
Singita Grumeti Reserve, Tanzania
Six critically endangered mammals will begin the long flight home on Friday. These Eastern Black Rhinos will, for the first time, live in their native habitat in Tanzania, where their ancestors were evacuated from 46 years ago to save them from poachers.
Conservationists have called it the most ambitious wildlife relocation in East Africa in the past 50 years.
But large-scale transplant operations of African wildlife are becoming more common. Earlier this year, for example, Kenya rounded up 4,000 zebras and 3,000 wildebeest and trucked them across the country to restore the ecological balance after a drought in the Ambroseli National Park killed off 60 percent of the herbivores. About a decade ago, more than a dozen elephants were airlifted from Botswana (where there is a surplus) to Angola.
This time, three male and three female Eastern Black Rhinoceroses will be airlifted from South Africa (officials couldn't confirm any excess baggage fees) to the Serengeti National Reserve in northern Tanzania. But this is just the start of an ambitious rhino transplant program.
The Eastern Black Rhino is among just 188 mammals on the "red list" of endangered species of the International Union for the Conservation of Nature. Poaching during the 1960s and 1970s almost wiped the rhino out in its native East Africa. Scientists were convinced at the time that this black rhino sub-species would become extinct and flew seven rhinos to South Africa for their safety in 1964.
---