Obama commits US to helping hunt for LRA leader Joseph Kony
President Obama signed a new law to help four African nations hunt down LRA leader Joseph Kony, who's followers have brutalized thousands over the past 23 years. Kony has been indicted for war crimes by an international court.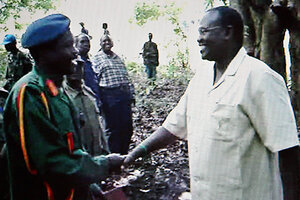 Reuters TV/File
Dungu, Democratic Republic of Congo
Lying on her hospital bed with her left arm heavily bandaged, three-year-old Suza Anipkidu is one of the Lord's Resistance Army's most recent victims.
Four days earlier, Suza, was following her grandfather, Samuel Mizalogbe, into the fields outside their village. That was when they came across the rebels.
Immediately they shot and killed her grandfather and another elderly man accompanying him. When Suza instinctively ran over to her grandfather's body they spotted her and then shot her.
"They thought she was dead and so they left," says her mother, Modestine Ngbadulezele, as she watches over her daughter as she recovers from the bullet wound. For the family, it's not the first encounter with the LRA. In March, two relatives were abducted when the LRA attacked the village.
Attacks, such as this one, for the past 23 years, are why President Barack Obama signed a law Monday that commits the US to helping four African nations to bring an "end to the brutality and destruction," said Mr. Obama in a statement. "By any measure, [the LRA's] actions are an affront to human dignity."
Kony's trail of tears
Originally from neighboring Uganda, the LRA is led by Joseph Kony, self-proclaimed prophet who was indicted in 2005 for war crimes by the International Criminal Court (ICC). His followers have become infamous for mutilating their victims and abducting children to be used as porters, fighters, and sex slaves.
---