Greece-Nigeria world cup score heartbreak for African side
The Greece-Nigeria match turned on a sending off. The World Cup score spelled heartbreak for the Nigerians, who now look most likely to fail to qualify for the round of 16 from their group.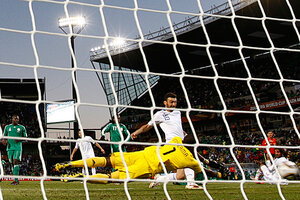 Christian Charisius/Reuters
The Greece-Nigeria game ended in a World Cup score that spelled heartbreak for the African side.
The match was about as close as it gets to all or nothing at this stage and both teams played like it.
With both Nigeria and Greece having lost their openers both needed to get points on the board, especially Greece, who play the rampant Argentina in their final match on Tuesday.
IN PICTURES: 10 players to watch in the World Cup
They pulled it off with a narrow 2-1 win against a Nigeria team that played with 10 men for most of the match.
Argentina have already qualified from Group B, but the other three teams are all still in with a chance of progressing. On the form they showed today, neither Greece nor Nigeria nor South Korean look like they will go further than the last 16.
It was Nigeria who started out strongest in Blomfontein and they took the lead thanks to some awful defending by the Greeks. Kali Uche flighted a free kick into the box that everybody left, including keeper Alexandros Tzorvas, who looked like he was waiting for someone to get a touch on it before he reacted.
That was in the 16th minute but the game hinged on an incident 17 minutes later. Sani Kaita and Kostas Katsouranis tussled on the touchline after the ball had left the field and Kaita petulantly lifted a leg. Although he never came close to making contact with Katsouranis, the act was judged to be worth a red card by Colombian referee Oscar Ruiz.
Playing against 10 men, Greece came into the game - helped by the introduction of Georgio Samaras - and they almost grabbed a quick equalizer when Tarumo booted a Samaras flick off the line.
---