Former Rwandan army chief shot in South Africa. Was it an assassination attempt?
Former Rwandan army chief Faustin Kayumba Nyamwasa - a top critic of Rwanda's authoritarian leader, Paul Kagame - was shot Saturday in Johannesburg, South Africa, in an apparent assassination attempt.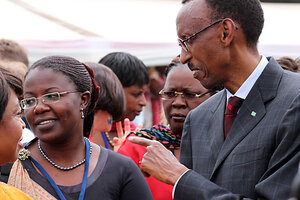 Jason Straziuso/AP
Johannesburg, South Africa
A top critic of Rwandan President Paul Kagame, the former Rwandan army chief Lt. Gen. Faustin Kayumba Nyamwasa, was shot Saturday in front of his house in what police are treating as an assassination attempt.
The Rwandan government told the BBC that it "does not condone violence" and would trust the South African police to investigate the shooting.
Gen. Nyamwasa has been living in exile in South Africa since February, when President Kagame's government accused him of launching grenade attacks in Rwanda's capital, Kigali, and also masterminding a failed coup attempt back in 2001. Nyamwasa, who was shot once in the stomach, is reported to be in stable condition in a Johannesburg hospital.
The apparent assassination attempt comes just months before Rwanda's second set of scheduled elections since Kagame came to power, sweeping aside a Hutu majority government that is blamed for launching a genocide that killed 800,000 Rwandans, most of them ethnic Tutsis.Kagame, Nyamwasa, and much of his ruling party, the Rwandan Patriotic Front, are members of the ethnic Tutsi minority.
---