Al Shabab terror attacks dominate African Union summit
The African Union summit got underway Sunday in Kampala, Uganda, amid calls for greater cooperation on terrorism following the city's deadly July 11 bombings by Somalia's Al Qaeda-linked militant group, Al Shabab.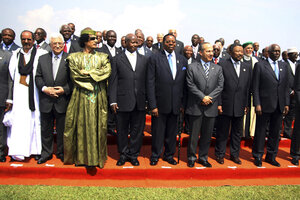 James Akena/Reuters
Just over three weeks after a pair of suspected suicide blasts killed 76 people watching the World Cup final in the Ugandan capital, Kampala, around 35 African leaders are meeting in the city for a scheduled African Union (AU) summit.
Although the nominal theme of the meeting is maternal and child health, the subject of regional security and what can be done to tackle the Al Qaeda-linked Somali Islamist group, Al Shabab – which claimed responsibility for the July 11 attacks – dominated the discussion.
In his opening speech to the summit Sunday, Ugandan President Yoweri Museveni called on the continent's leaders to unite against those responsible for the attacks.
AFRICA MONITOR: Why Somalia would make Afghanistan look like Mr. Rogers neighborhood for US troops
"Let us work in concert to sweep them out of Africa," Mr. Museveni said, after a two-minute silence for those killed in the attacks, which Al Shabab claims were in revenge for indiscriminate shelling of civilians by Ugandan peacekeepers in Somalia.
A stronger mandate?
---