Mass rape in Congo reignites questions on efficacy of UN force
A report this week that Rwandan rebels looted villages in Congo and mass-raped more than 150 women and children in July has human rights activists asking why the UN peacekeeping mission can't prevent such atrocities.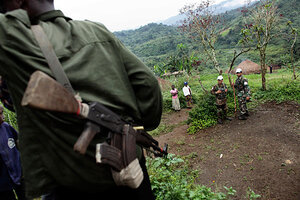 Rebecca Blackwell/AP
Johannesburg, South Africa
The Rwandan rebels came down into the eastern Congolese town of Luvungi and occupied it for four days, systematically looting local homes and gang-raping more than 150 women and children.
Less than 20 miles away, two dozen soldiers from the world's largest United Nations peacekeeping force sat apparently unaware, seemingly unable to come to the village's aid. The peacekeepers even made mobile patrols through some of the villages surrounding the occupied town of Luvungi itself, only to find that the rebels – the Democratic Forces for the Liberation of Rwanda (FDLR), whose members are blamed for the 1994 genocide in Rwanda – simply ran into the woods to hide, only to return when the UN forces were gone.
The attacks, which occurred in late July and were confirmed this week by the UN peacekeeping mission, have raised questions about just what the UN Organization Stabilization Mission in the Democratic Republic of Congo is supposed to accomplish.
VIDEO: Former fighter confesses to rape, says how he's trying to get men to stop
"During the attack [the rebels] looted [the] population's houses and raped several women in Luvungi and surrounding areas," Stefania Trassari, spokesperson for the United Nations Office for the Coordination of Humanitarian Affairs (OCHA) was quoted as saying by Al Jazeera's English service on Monday.
---