Concerns of violence as Uganda election season kicks off
President Yoweri Museveni is favored to win a fourth consecutive term, but fraud and intimidation could lead to clashes in the run-up to the Feb. 18 Uganda election.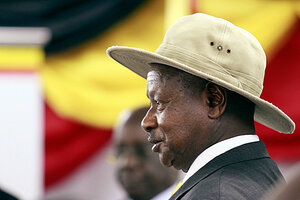 James Akena/Reuters
Uganda's 112-day presidential election campaign kicked off in the capital, Kampala, today amid concerns that violence could mar the run-up to the Feb. 18 vote, in which President Yoweri Museveni is favored to win a fourth term.
Having abolished the limit on the number of terms he can serve in 2005, Mr. Museveni – who earlier this year became East Africa's longest-ever serving head of state after 24 years in power – will face off against seven competitors.
Despite a steadily growing economy, rampant corruption has led to widespread resentment, and a simmering conflict between Museveni's government and the Baganda – Uganda's largest ethnic group – could make the race competitive.
That's if the vote is free and fair.
Opponents, critics, and independent analysts share concerns that abuse of power, electoral fraud, and voter intimidation will mar the vote as they claim it did last time.
"The voters are not the ones who will decide the outcome," says Aaron Mukwaya, a senior lecturer in political science at Kampala's Makerere University. "The government already knows the outcome it wants and it will get it by using money, the military, and all the apparatus of the state."
Museveni's top rival
---
Follow Stories Like This
Get the Monitor stories you care about delivered to your inbox.