Special Report: As ICC names suspect Kenyan leaders, records reveal talk of more ethnic cleansing
The International Criminal Court (ICC) is expected Wednesday to accuse up to six Kenyan leaders of orchestrating the ethnic violence that killed some 1,200 people after Kenya's Dec. 27, 2007 elections.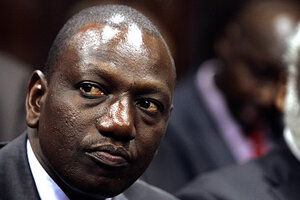 Noor Khamis/Reuters
When Luis Moreno Ocampo – the prosecutor for the International Criminal Court at The Hague, Netherlands – names six top Kenyans Wednesday accused of orchestrating mass violence in late 2007 and early 2008, Kenyan security forces around the country will be prepared for the worst.
They have good reason. Supporters of at least one senior Kenyan, William Ruto, who was minister of both agriculture and higher education, have vowed to make their Rift Valley region "ungovernable" and to unleash a wave of mass violence modeled after the Rwandan genocide. Their motive: to punish their enemies, especially those who have testified against Mr. Ruto, and to prevent Ruto's possible arrest and extradition to The Hague.
Calling themselves the "Friends of Hon. William Ruto," a group of 20 prominent Kenyans, including famous marathon runners, prominent businessmen, ex-military officers, and local elected officials, has spent significant portions of the past year obstructing the ICC's investigation, intimidating witnesses, and planning a Rwanda-style ethnic cleansing in the Rift Valley. The aim: to prevent the possible extradition and arrest of their ethnic group's top politician for his alleged role in promoting the 2007-08 post-election violence, according to minutes of the group's meetings and other evidence obtained by the Monitor that is also in the hands of Kenya's National Security and Intelligence Service and the ICC.
---
Follow Stories Like This
Get the Monitor stories you care about delivered to your inbox.