South Sudan upbeat amid vote, but threat of border violence casts shadow
Lines were long on the peaceful second day of voting in South Sudan's independence referendum. But concerns rose over clashes in the Abyei region, along the north-south border.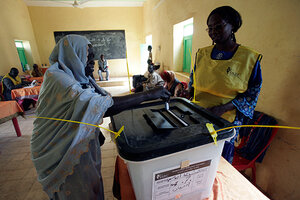 Abd Raouf/AP
The mood on the second day of voting in South Sudan's independence referendum remained upbeat, and lines at polling stations around the capital, Juba, were again long, but the threat of further violence in the disputed north-south fault-line of Abyei cast a shadow over the optimism felt around the south on Sunday.
The people of Abyei were meant to cast their own votes of self-determination starting Sunday, a referendum they were promised when the north and south ended more than two decades of war in 2005. Instead, negotiations between the Khartoum-based National Congress Party (NCP) and the south's ruling Sudan People's Liberation Movement (SPLM) are stalled. But one thing is looking almost certain: Abyei won't determine its future status – either as part of northern or southern Sudan – through the ballot box.
Although officials on the ground in Abyei reported that the situation today was calm, clashes over the past three days could herald a backslide into local conflict in the flashpoint region that Sudan watchers fear could destroy the hard work over the past six years to preserve a fragile peace.
---