Yoweri Museveni wins another disputed Uganda election
Ugandan officials announced Sunday that veteran President Yoweri Museveni won Friday's presidential election with 68 percent of the vote, but top rival Kizza Besigye rejects the results.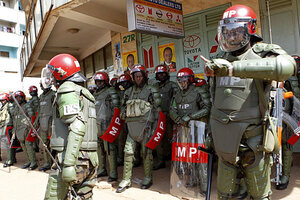 Thomas Mukoya/Reuters
After 25 years in power, veteran Ugandan President Yoweri Museveni just seems to be getting more and more popular.
Uganda's Electoral Commission announced Sunday that Mr. Museveni had won Friday's disputed presidential election with 68 percent of the vote. That's up from the 59 percent he claimed in 2006 and nearly three times more than his nearest rival, his former personal physician Kizza Besigye, who got 26 percent.
The result was "a great victory," said Amama Mbabazi, secretary general of Museveni's ruling National Resistance Movement, immediately after the announcement at the official tallying center in Kampala's Nelson Mandela stadium. And the Museveni supporters who quickly lined the road from the stadium seemed to agree.
But Mr. Besigye – who was challenging Museveni for the third time running – begged to differ.
Shortly before the official results were released he told a press conference that he was already rejecting the electoral commission's tally. After saying throughout the campaign that a skewed voter registry and partisan electoral commission made the vote "fundamentally flawed," Besigye produced a list of complaints – from rampant voter bribery, to ballot stuffing and military intimidation – that he said proved the elections had been systematically rigged.The electoral commission denied the allegation.
"We are rejecting the leadership that is emerging out of this election." Besigye said. "We are not willing to put up with an illegitimate president."
No Egypt-style protests?
But after warning for weeks that a rigged election could spark Egypt-style revolt, one thing he did not do was call his supporters onto the street for mass protests.
---