Why Obama is sending troops to Africa – a closer look
The 100 US Special Operations troops sent to central Africa will act as 'military advisers' in the hunt for Joseph Kony, the murderous rebel leader of the Lord's Resistance Army rebel group.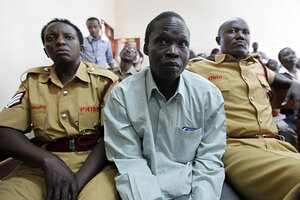 Edward Echwalu/Reuters
Earlier this month, President Obama sent a letter to Congress explaining why he had approved sending 100 US military advisers to fight a shadowy rebel group in central Africa.
The reason, President Obama wrote, is that the Lord's Resistance Army – a brutal rebel group with a mixture of Christian fundamentalist and African traditional beliefs – is a threat to regional security in central Africa, and thus a threat to the interests of the US government and its strategic partners.
Noting that Congress had passed the Lord's Resistance Army Disarmament and Northern Uganda Recovery Act in 2009, Mr. Obama wrote, "I have authorized a small number of combat-equipped US forces to deploy to central Africa to provide assistance to regional forces that are working toward the removal of Joseph Kony from the battlefield."
While tracking down unhinged African warlords may be the stuff of bad Hollywood movies, it generally has not been a plank in US foreign policy. But with the advent of the US military's relatively new Africa Command (AFRICOM), headquartered in Stuttgart, Germany, America's military is working closer with its African partners to ensure regional security.
---