Liberia's Sirleaf takes oath for second term, promises reconciliation
President Ellen Johnson Sirleaf stressed national reconciliation at her second inauguration ceremony today in Liberia, a nation still emerging from years of war.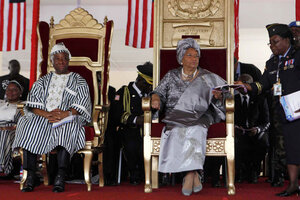 Larry Downing/AP
President Ellen Johnson Sirleaf pledged to work harder toward achieving national reconciliation at her second inauguration ceremony today in Liberia, a nation that emerged from civil war nearly a decade ago.
The ceremony itself showed some progress toward that goal: The top leaders of the main opposition party, Congress for Democratic Change (CDC), agreed to attend the inauguration after striking a deal with the ruling Unity Party over the weekend to recognize Ms. Sirleaf as president. The CDC had boycotted the second round of elections due to claims of electoral fraud.
While the show of unity augers well for Liberia's reconciliation efforts, challenges remain. Negotiations are still ongoing to determine what role the CDC may play in the upcoming government. And there is plenty of unhappiness with the opposition's decision to recognize Sirleaf among the rank and file, particularly unemployed youth and ex-combatants from the 14 years of civil war who feel they have not benefited from her government.
"The decision offers prospects for building political coexistence between the opposition and the Unity Party," says Dan Sayree, director of the Liberian Institute for Democracy in Monrovia. "It offers hope for Liberian democracy and political stability."
But he added that Sirleaf needed to address some of the concerns of CDC supporters many of who feel they haven't benefited from the nation's development.
"Her focus on youth and whether this will take the form of legislation that can be handed on between governments or whether it will be a means for recruiting young people into the party remains to be seen," Sayree says.
Sirleaf: youth sent a message
Sirleaf's inaugural message was directed at the youth in particular, many of whom rioted in the streets of Monrovia last month to express their anger at the government's late payment of casual workers' wages.
---