A warrior turns peacemaker in Liberia
(Read article summary)
Former soldier Christian Bethelson's only job skill was killing – until a meeting on a muddy road in Liberia changed his life, and many others.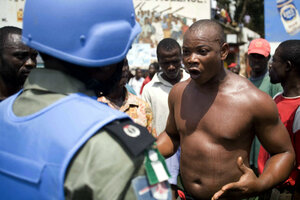 Christopher Herwig/Reuters/File
I tell my children, 'Watch who you marry,'" says 53-year-old Christian Bethelson. "I married an AK-47, and it stole 27 years of my life. Bad marriage."
He flashes a smile. One of his front teeth is missing, knocked out during a torture session in military prison. He's also got a scar from a bullet in his right leg, and a host of terrifying stories from the front lines of Liberia's civil war, one of West Africa's most brutal conflicts in recent history.
Like the nation itself, Bethelson is trying to leave behind decades of military rule and no-holds-barred warfare. It hasn't been easy. Even in a quiet living room in sleepy Santa Fe, N.M., where he has come to develop his peacebuilding work and further his personal studies in meditation, Bethelson does not seem entirely at ease. He sits on the edge of his chair and gesticulates broadly, his heavily accented voice rising as he describes how he stumbled into the life of a soldier – a life he might still be living today, if not for the chance encounter on a muddy road that set him on a path to transformation.
QUIZ: Think you know Africa? Take our geography quiz.
Today, Liberia's Grand Cape Mount County is a roll of forested hills, cleared in no obvious pattern to make room for rice fields, rutted dirt roads, and clusters of palm-roofed homes. Somewhere, a bird is always singing.
---