Attack on foreign tourists widens rift between Ethiopia, Eritrea
Five European tourists, touring the spectacular volcanic moonscape of the Danakil Depression, were killed by unknown gunmen. Ethiopia blamed Eritrea, promises tough action.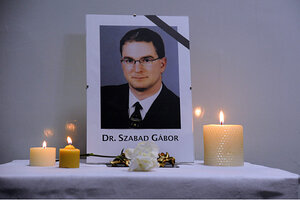 Zoltan Gergely Kelemen/MTI/AP
Addis Ababa, Ethiopia and Nairobi, Kenya
Five western tourists on a trip of a lifetime in East Africa walked into a long-running, albeit low-boil, international conflict and paid with their lives Wednesday.
The European tour groups were camped out on the lip of a crater after leaving armed escorts at the base. At 1:00 a.m, they were attacked by unknown gunmen. Five tourists -- two Germans, two Hungarians, and an Austrian -- were killed execution style, a diplomatic source said, while several others appear to have been kidnapped. Survivors had to contact a German tour operator to alert the Ethiopian government to launch a rescue mission.
What drew these 20 Europeans out to one of the most remote and inhospitable corners of the earth?
Geology. The area known as the Danakil Depressions is one of Ethiopia's most popular tourist spots. Dozens of tour group operators in Addis Ababa offer tours to the region, which is one of the lowest, hottest points on the earth. Lying close to the northernmost reach of Africa's Great Rift Valley, it is a unique moonscape more than 300 feet below sea level where volcanic and tectonic activity is still actively pulling subterranean plates apart.
Week-long trips cost more than $1,200 per person – sleeping in tents and eating camp-cooked food – and are carried out in convoys with armed guards and never fewer than nine tourists in multiple vehicles.
---