Famine ends in Somalia, as drought looms in West Africa
Aid groups say that improved harvests and food donations have ended risk of starvation, but warn that ongoing war in Somalia could still reverse gains made.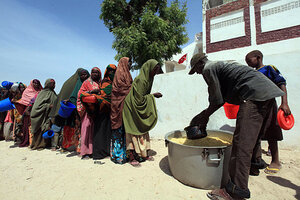 Feisal Omar/Reuters
Somalia's seven-month-long famine – which killed tens of thousands and forced nearly 4 million people dependent on food aid for survival – has finally come to an end, according to the United Nations.
In a study of weather patterns, improved local harvests, and availability of food aid, the UN Humanitarian Coordinator for Somalia Mark Bowden told reporters today that "famine conditions are no longer present."
The victory is a fragile one, however, as an internationalized war in Somalia rages across the southern part of the country. Drought conditions, too, could return in May with Somalia's dry season. Some 2.3 million people in Somalia and nearly 10 million people throughout the Horn of Africa still depend on food aid for survival. Still, the turnaround is seen as evidence by aid agencies that emergency humanitarian aid can make a difference.
"125,000 children no longer face severe malnutrition – thanks largely to the efforts of the Somalis themselves and the humanitarian aid they've received. That can only be excellent news, but we must not be complacent," said Senait Gebregzhiabher, the head of Oxfam in Somalia, in an e-mailed statement.
These gains can be reversed, Mr. Gebregzhiabher added. "We are seriously concerned that if people do not have the security to tend their crops and animals, or the freedom to access clean water and food in the markets, the humanitarian situation will deteriorate once again.
At its height, the drought in the Horn of Africa region affected 12 million people, in Somalia, Ethiopia, and in northern Kenya. Early warnings from a Famine Early Warning System (FEWS) – a complex system of field censors and satellite data – alerted donor agencies well in advance, but a slow response of donor nations in 2011 may have cost the lives of 29,000 children under the age of 5, according to studies by the US government.
---