Senegalese opposition denounce president's bid for third term
At a joint rally Sunday, 8 of 13 opposition candidates, including singer Youssou N'Dour, challenge President Abdoulaye Wade, after period of violent protests.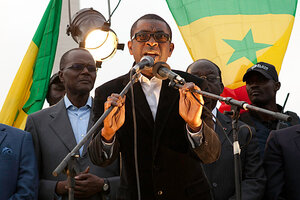 Joe Penney/Reuters
The eight candidates came in convoys from their respective corners of Dakar to Obelisk Square in the heart of the Senegalese capital, where crowds of color-coordinated supporters awaited them while listening to political hip-hop anthems in Wolof - the local dialect. A single microphone stood on stage and each of them were introduced as "president" before they took it.
It was not a debate. When everyone says the same thing, how could it be?
"We will mobilize until Abdoulaye Wade withdraws his candidacy, which is irregular, illegal and illegitimate," said Ousmane Tanor Dieng, the Socialist Party candidate.
Of the 13 opposition candidates trying to unseat Abdoulaye Wade in Senegal's February 26th election, eight of them began the campaign period together on Sunday to denounce the 85-year-old president's bid for a third term. The rally was peaceful, unlike the previous week of violent protests that left at least four dead throughout the country.
The uncharacteristic unrest in Senegal started on January 27th, when the country's constitutional council decided that Wade could run in spite of a two-term limit that he signed into law after his first election in 2001. The five judges, all appointed by the president, agreed with Wade's assertion that he could run again because he was first elected under the old constitution.
The council did not, however, approve the candidacy of Grammy-winner Youssou N'Dour, who has been critical of Wade's projects-over-people governing style in recent years. N'Dour attended the campaign rally and was introduced with the same honorific as his would-be colleagues.
---