Next pirate hot spot: the Gulf of Guinea
The Gulf of Guinea, off the coast of West Africa, is a significant source of US oil. Rising piracy here could mean rising prices at the pump.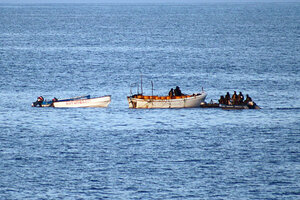 EU NAVFOR/AP/File
High-seas piracy has found another home, in the waters of the Gulf of Guinea on the West African coast. The number of attacks in 2011 far surpassed the total number for 2010, and the pace could increase this year as well, as oil-rich nations of the region increase their production. With global oil supplies tight and the price of oil already rising, the costs of West African piracy will almost certainly be felt at your local fuel pump.
According to the UN International Maritime Organization (IMO), 64 incidents of piracy were reported in nine countries of the Gulf of Guinea region in 2011, up from 45 incidents in seven countries in 2010. There have been 10 reported piracy incidents in the first two months of 2012 alone, an indication that the pace of attacks remains steady, as oil prices rise.
Like piracy off the coast of Somalia, the high-seas attacks in the Gulf of Guinea – extending from Ivory Coast in the West toward Nigeria, and down toward the Democratic Republic of Congo -- are driven by a combination of economic opportunism by existing criminal gangs, and the lack of governmental capacity to rein in those criminal gangs on shore. Militias in Nigeria's restive Niger Delta region have long carried out attacks on land-based oil pipelines, siphoning off crude oil in a practice called "illegal bunkering."
---