Why Iran wants to beef up Zimbabwe's military
Iran has guns and expertise. Zimbabwe has uranium and diamonds. Both are international pariahs. It's a heaven-made match in a world of crushing international sanctions.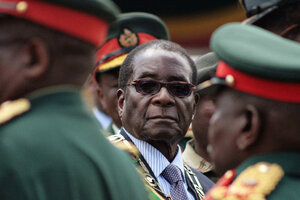 AP
Both countries are subject to crushing Western-backed sanctions. Both are revolutionary governments condemned for their human rights records, and isolated from world politics. Small surprise, then, that Iran and Zimbabwe have a lot in common and recently announced a defense agreement.
In a Sunday meeting between Zimbabwe Defense Minister Emmerson Mnangagwa and Iranian Defense Minister Ahmad Vahidi, Iran pledged to help Zimbabwe to modernize its defense forces. It is not clear how the cash-strapped but uranium and diamond rich Zimbabwe would pay for this service, but Minister Mnangagwa told reporters the agreement was merely a "consolidating and deepening" of the Iran-Zimbabwe relationship.
"We are fully prepared to help Zimbabwe's military forces in any way possible," Iran's state-run Fars new agency reports Minister Vahidi as saying. "We will help strengthen their military so that they are able to protect their land and culture, especially so they are prepared against the pressures and threats from Western countries."
Circumstances have led to these two nations' friendship. Iran is currently under substantial pressure over its nuclear energy program, which many Western governments believe includes nuclear weapons ambitions. Iran denies this. Zimbabwe, for its part, is under heavy sanctions for its forced land-reform policies since 2000, in which large white-owned commercial farms were taken by force and without compensation.
Zimbabwe's steady impoverishment have forced millions of its citizens to flee to neighbor countries like South Africa, but Zimbabwe's rich mineral deposits, including uranium and diamonds have attracted the attention of Iran, which is increasingly cut off from the global economy.
---