Uganda's opposition marches again, this time violently
A protest march in Kampala by Uganda's opposition leader Kizza Besigye leads to the murder of a police officer, highlighting how combustible Uganda's political situation remains.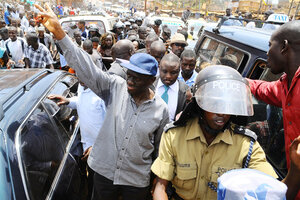 Stephen Wander/AP
As Kizza Besigye – Uganda's preeminent opposition politician – waved at his cheering supporters as he walked along the warren of rutted, dirt roads running through downtown Kampala, you could sense that things could go wrong.
For once, Dr. Besigye had given the slip to the police officers surveilling his home on the outskirts of the city and thousands of his supporters were cheering his unexpected appearance.
Opposition officials insisted that it was not a planned rally and that Besigye had been invited by the city mayor to inspect roadworks and drainage systems, but it quickly spiralled into a political demonstration.
After his 26 years in power, few in Kampala need a second chance to express their anger at incumbent President Yoweri Museveni. The ire was strongest among the city's main Baganda ethnic group, largely over corruption claims and perceptions that the president favors people from his own tribe.
"You see our Uganda? Look at the holes in the roads, look at these streets – and this is meant to be the capital," said one Besigye supporter. "Museveni has been here for so long – he must go."
As police scrambled to control the situation, events spiralled fast. Police beat opposition supporters with batons and bundled Besigye into a van. Opposition supporters threw stones. Police fired tear gas and stun grenades.
It was all over in minutes but tragically, as debris was flung at the police, an officer, John Bosco Ariongo – a policeman of 26 years and father of eight – was fatally wounded.
"Uganda Police Force regretfully confirms that a police officer was killed in a violent assembly," Judith Nabakooba, a spokeswoman for the Ugandan police, said in a statement.
Besigye could be charged
---