Into the jungle on the hunt for Joseph Kony
The Kony 2012 campaign has made Joseph Kony infamous. But for the Ugandan troops hunting him in the jungles of central Africa, finding him remains a mammoth task.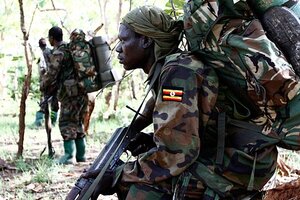 Reuters
Near River Vovodo, Central African Republic
Sitting alone with his gun and his thoughts, as the sounds of the central African jungle echo around him, Pvt. Michael Feni talks about the man he has been pursuing for over three years across three countries in this remote region.
"If we can finally catch Joseph Kony and end this all then I am going to be so happy," Private Feni says, taking a swig from an army-issue canteen filled with the brackish water of a tropical stream. "I am sure it will happen one day but the man is a coward and he just keeps on running and running."
In the shadowy fight against the rebel Lord's Resistance Army, Feni and the 60 other men in 77-Juliet squad are at the forefront.
They are one of the Ugandan army's several dozen "hunting squads" combing a desolate area of dense jungle and sun-seared rock around twice the size of Maryland in the far eastern tip of the Central African Republic. The challenge of this terrain and the cunning and brutality of their quarry are the key reasons Mr. Kony remains at large, long past the days when his LRA mounted a serious challenge to the Ugandan government.
Since late 2008 – when the Ugandan military bombed the LRA's camps in Democratic Republic of Congo – the rebels have splintered into small groups and spread out, butchering civilians and abducting children as porters and sex slaves along the way.
---