As Kenya's Olympians run, a divided nation has chance to unite
Ethnic divisions following the 2007 elections drove some Kenyan communities to violence. Some now see the upcoming Olympic Games as a chance for national unity.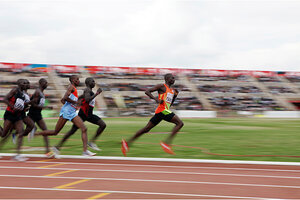 Noor Khamis/Reuters
Training in the urban Karura forest just northwest of the heart of Nairobi in an attempt to retain the "strong lungs" that comes from breathing in the thin air of Kenya's high-plateau altitude, the Kenyan Olympics team is preparing for the July 27 – Aug. 12 Games in London.
Most of the team members belong to a single ethnic group. Indeed, most of the athletes come from one particular town. Yet, the recent ethnic violence that has emanated from the town of Eldoret in the Rift Valley – driven by a combination of political ambition and ethnic resentment – makes the dominance of ethnic Kalenjins on the Kenyan Olympic team a matter of some concern. Will Kenyans set aside ethnic differences during the Olympic games, and unify as one nation?
"When the games begin, Kenyan will sit together as citizens of one country and cheer their runners," says Ben Mutsotso, a sociologist at the University of Nairobi. "The games bring us a sense of pride, fame, and unity to all Kenyans regardless of their tribes, race, or class. That will benefit peace."
Four years ago, Kenya descended into a bloody post-election violence following a dispute over a tightly contested presidential election. The violence erupted Dec. 28, after President Mwai Kibaki, from the Kikuyu tribe was declared the winner and Raila Odinga, from the Luo tribe. Later the prime minister said the polls had been stolen.
Within hours, the Rift Valley town of Eldoret erupted in flames, as youth from the Kalenjin tribe, who had supported Mr. Odinga and his Kalenjin allies, attacked their Kikuyu neighbors, who were presumed to be supporters of Mr. Kibaki. Kikuyu youth in Kenya's Central Province responded soon afterward with attacks on Luo and Kalenjin neighbors. Some 1,300 people were killed and 600,000 displaced from their homes, before both sides settled down to negotiations to form a coalition government.
---