Sudanese factory destroyed by US now a shrine
President Bill Clinton ordered a cruise missile strike on the pharmaceutical factory in Khartoum in 1998; the Sudanese still haven't forgotten.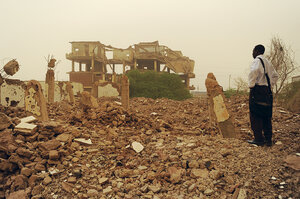 Scott Peterson/TCSM/Getty Images
Fourteen years after American cruise missiles destroyed a pharmaceutical factory in Khartoum, its ruins have been left untouched as a shrine that still rankles Sudanese.
The precision strike did its work: The buildings are pulverized, a tangle of broken concrete and iron bars; thousands of brown bottles of veterinary and other medicines lie scattered, the whole scene stained by endless sun and sandstorms.
The Aug. 20, 1998, attack was ordered by President Bill Clinton, simultaneously with missile strikes against training camps run by Osama bin Laden in Afghanistan, to retaliate for the dual bombings two weeks earlier at US embassies in Kenya and Tanzania.
Myths continue to abound, on both sides, about a military strike that wiped out Sudan's largest pharmaceutical facility, a trophy plant that specialized in anti-malaria medicines, antibiotics, and lifesaving veterinary goods – and where the British ambassador was among the dignitaries at the 1996 opening.
Debate remains unresolved in the United States, whenever it is brought up, about the wisdom of destroying the factory and whether it ever posed a threat, as Washington declared, of chemical weapons falling into terrorist hands.
Still bitterness
But in Sudan there is no such debate, just bitterness and anger at what is widely seen as an unjustified strike. Indeed, Sudanese officials at the time told this journalist visiting days after the bombing that he was free to go anywhere, and photograph anything – the first time ever under the authoritarian regime of President Omar Hassan al-Bashir.
---