Back to school: From rural Africa to the Ivy League
The United States Achievers Program provides funding and moral support for promising but disadvantaged students from 13 countries on four continents to pursue their educational goals.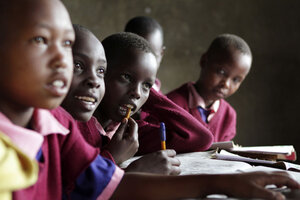 Noor Khamis/REUTERS
In early 2008, Joshua Foromera was a talented Zimbabwean high school graduate living as a refugee in South Africa. He fled Zimbabwe because of political and economic collapse, seeking higher education opportunities.
Today, Mr. Foromera is a biology and chemistry major at Duke University in North Carolina, following his dream of finding a safer, more effective treatment for the virus linked to AIDS.
Good grades and standardized test scores got Foromera, a graduate of a rural Zimbabwean public school, into Duke. But a small public-private partnership between US universities and the United States government helped him navigate the unfamiliar process of taking American-style tests, filling out college applications, seeking financial aid, and finally, applying for US student visas. The program, called the United States Achievers Program (USAP), aims to help promising students from disadvantaged backgrounds to further their education in the United States, and then return to their home countries to make a difference.
Joshua Foromera is just one of hundreds of foreign students with modest incomes attending university in the United States, thanks to private scholarships, enthusiastic volunteers, and the relatively small $12 million USAP program run out of US embassies in 13 countries on four different continents.
At a time when the US's strategic advantage in higher education is being tested, and global talent moves to emerging economic powers such as India and China, programs like USAP help ensure that America's colleges and universities still draw in the lion's share of academic talent, and contribute to the economic boost higher education brings to the US economy.
"The primary goal for what we do and why we do it is to cultivate relationships with future leaders around the world," says Meghann Curtis, deputy assistant secretary of state for academic programs, including USAP, the Fulbright program, and other scholarships.
---