Child killed in Kenya church attack. Revenge for Kismayo?
A grenade attack on an Anglican Church in Kenya is widely seen as a response to Kenya's troops overrunning Kismayo, the final urban stronghold of the Islamist group Al Shabab.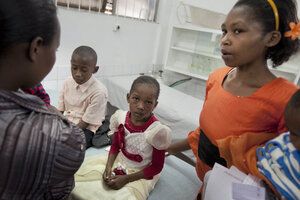 Ben Curtis/AP
A grenade attack on an Anglican Church in Kenya's capital has left one child dead and seven others injured in what is viewed as a response by the Somali Islamist group Al Shabab to the capture of its stronghold Friday by Kenyan troops.
The Sunday morning attack on the St. Polycarp's Anglican Church in Eastleigh area, which the police said was carried out by Al Shabab or its sympathizers, prompted analysts to warn of more attacks as the Kenya Defense Forces achieve more military success in next-door Somalia.
The troops, which rolled into the war-torn country in October 2011, entered Al Shabab's final stronghold city of Kismayo on Friday. Fighting together under the African Union banner, Kenyan and Somalian troops are now moving to consolidate their gains in Kismayo.
The apparent reprisal attack on the Nairobi church offers early confirmation of concerns here that while Al Shabab's conventional fight may be ending, the group will continue to be a regional menace through guerrilla and terrorist attacks.
"Kenya should brace itself for these attacks. It is obvious. Al Shabab has said, you come to my hole, I will come to yours," says Madobe M.A, a Nairobi-based analyst on Somali issues.
The attack came as children were singing in a church Sunday school service. In a style reminiscent of Boko Haram, Nigeria's violent Islamist sect, the assailants hurled a grenade inside the school, with most children being injured in the stampede for the exits.
---