Mugabe sets elections for March, but will Zimbabwe be ready?
The elections would include both presidential and legislative contests. But critics say that too many political issues remain unresolved for elections to be fairly held in March.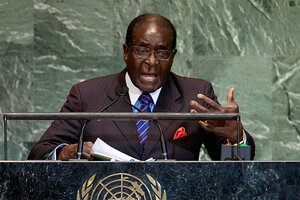 Ray Stubblebine/Reuters
Zimbabwean President Robert Mugabe, who has been in power since 1980, announced last week that harmonized elections – which will include presidential and legislative elections – will be held in March next year in the southern African country. But political analysts and parties have described the proclamation as "daydreaming."
The troubled country last held elections in 2008 which were roundly condemned by the international community after violence which claimed over 200 supporters of Prime Minister Morgan Tsvangirai's Movement for Democratic Change (MDC-T) party.
A government of national unity was formed after the elections, uniting the MDC-T, Mr. Mugabe's ZANU PF, and a smaller faction of the MDC led by Welshman Ncube. But there has been discord in the fractious government and lately there has been haggling over a new constitution.
While Mr. Tsvangirai and Mr. Ncube have agreed to a draft constitution, Mugabe has been dragging his feet over the document citing the devolution of power, gay rights, and dual citizenship as his main areas of contention.
Despite the sharp differences bedeviling the government, Mugabe announced elections will be held next March.
---