Will a new constitution make Zimbabwe more democratic?
A draft constitution, released this week, proposes term limits for presidents, as well as a commission to study past crimes against humanity.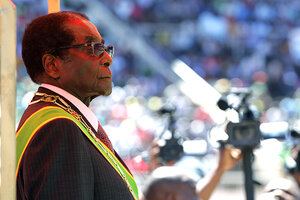 AP
The fractious coalition government that rules Zimbabwe released a draft constitution this week that seeks to limit presidential terms to just 10 years, and to establish a Truth, Justice, and Reconciliation Commission to look into human rights violations allegedly committed during President Robert Mugabe's 32 years in power.
The draft document – which will require approval by Mr. Mugabe's cabinet as well as Zimbabwe's opposition-dominated parliament – is a harbinger of the final product that is expected to pave way for elections probably next year, after the flawed and violent elections in 2008, which claimed the lives of over 300 supporters of Prime Minister Morgan Tsvangirai. Mr. Tsvangirai, a fierce critic of Mr. Mugabe, joined Mugabe's government after nearly a year of political stalemate between his own Movement for Democratic Change (MDC) and Mugabe's ZANU-PF party over the 2008 election results.
After he was widely rejected – by the international community, including the African Union – as the legitimate president of Zimbabwe following the bloody June polls, Mugabe was forced into marriage with his rival Tsvangirai into a coalition government three years ago.
The coalition government – a product of much international pressure and months of negotiation – was mandated to come up with a new constitution in order to hold freer and fairer elections. Friction between the coalition parties has been growing in recent months, and Mugabe's ZANU-PF is thought to seek elections by the end of this year.
---