Pirate attacks off Somalia plummet thanks to navies, armed guards
The pirate attacks are down 65 percent to their lowest level since 2009.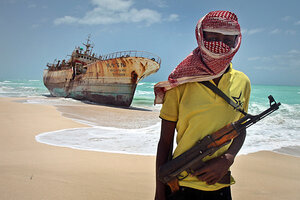 Farah Abdi Warsameh/AP/File
Pirate attacks off Somalia have plummeted 65 percent, to their lowest level since 2009, but analysts warn that these gains could be reversed without sustained efforts to cement security onshore.
Between January and September this year, Somali pirates carried out 70 raids, down from 199 for the same stretch in 2011.
During the monsoon months of July, August, and September, pirates attempted only one hijacking, which failed, compared to 36 such incidents in the same period last year.
Releasing these latest figures, the International Maritime Bureau (IMB) credited international naval patrols and the use of armed guards on ships as the major factors that thwarted fresh attacks.
"We welcome the successful robust targeting of pirate action groups by international navies in the high risk waters off Somalia, ensuring these criminals are removed before they can threaten ships," Capt. Pottengal Mukundan, director of the IMB, said in a statement.
Still 188 hostages
This year's drop in attacks off the coast of Somalia helped pull global piracy figures to their lowest third quarter total since 2008, the IMB added, with 125 vessels boarded, 24 hijacked, 26 fired upon, and 58 attempted attacks.
Despite the gains, Somali pirates were still holding 11 vessels with 167 crew members hostage, as well as 21 other crew members being held on land.
More than 20 of those hostages have been held for more than 30 months, the IMB said.
---