Do celebrities in Africa make you cringe? Check out why Ben Affleck gets it right in Congo.
(Read article summary)
The vast majority of celebrities who get involved in Africa do little more than bring attention to themselves, but Ben Affleck's Congo initiatives actually hire locals and focus on fitting in, not dictating solutions.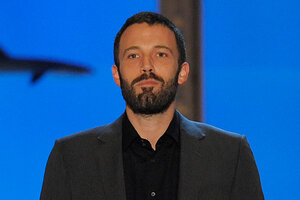 Chris Pizzello/AP
Longtime readers of this blog know that I am very cynical about celebrity advocacy in general.
My eyes glaze over when I see a link to a story about whichever starlet Prendergast is courting to "be a voice for Darfur" or a heartwarming 60 Minutes segment about Madonna becoming one with Malawi's orphans.
For all the talk about "bringing attention" to "neglected crises," the vast majority of celebrities who get involved on the African continent do little more than bring attention to themselves while funding small programs here or there that might or might not do anyone any good.
BLOG: Do we really need white people to 'save' Africa?
All that's to say, this next sentence is going to shock some of you: At least one celebrity is getting it right when it comes to the eastern DRC.
I know. I'm shocked, too.
When I heard that Ben Affleck was headed out to Goma, and that he was starting the Eastern Congo Initiative, I groaned. But the more I'm learning about the organization, the more I'm convinced that the ECI is getting it right. Starting with their mission to promote the hadisi (the Swahili word for "story") of the people of the eastern Congo.
---
Follow Stories Like This
Get the Monitor stories you care about delivered to your inbox.