South Africa corruption: Praise for 'historic' sentencing of former police chief Jackie Selebi
(Read article summary)
South Africa officials and citizens see the 15-year sentence handed to former police commissioner Jackie Selebi today as a warning for others in government.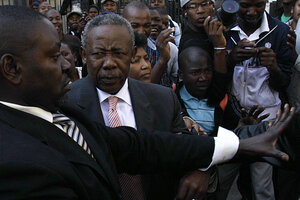 Themba Hadebe/AP
The sentencing of Jackie Selebi, former South African police commissioner, is being widely applauded here as a landslide victory against corruption.
Mr. Selebi is South Africa's first police commissioner to be arrested and convicted of a serious crime involving corruption.
Politicians, businessmen, and members of the public welcomed the verdict, saying it would act as a deterrent for would-be criminals occupying influential positions in society.
Selebi's sentence of 15 years in prison marked the end of one of the most controversial trials in South African history, says Dianne Kohler Barnard, a Member of Parliament for the opposition Democratic Alliance (DA) and shadow South African police minister.
---