How Nigeria's plan to privatize its electricity company could light up Africa
(Read article summary)
Privatization isn't easy, however. Nigerians need look no further than neighboring Cameroon. While an American company brought cash and expertise, they were initially stymied by the endemic corruption in the electricity network.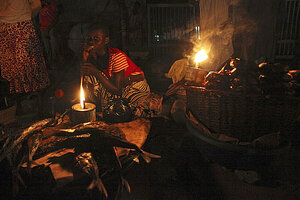 tk
OK, Nigeria isn't for sale, not all of it at least, only the national electric power company.
In a country where most people lack reliable electricity to their homes and workplaces, the government's declaration of an intention to sell of its pathetic state-owned electricity company is cause for celebration – and also reflection on what private-ownership will bring if the government manages to sell even a controlling stake to outsiders.
The government said Aug. 26 it wants foreign investors to put $10 billion into its ailing electricity company, Power Holding Company of Nigeria. The long list of potential investors includes Canada, Turkey, Saudia Arabia, China, and India, but not the United States.
Surely Nigeria offers profitable opportunities for foreign investors – and the promise of improved living standards for all but the top 10 percent of Nigeria's population who already live in relative opulence. Electricity is the critical technology for African countries to master. The difficulty is more political-economic than technological. State-ownership, while sometimes warranted, has been an utter failure in the electricity sector in Nigeria and in many other African countries.
---