In South Sudan, clan rivalries complicate referendum
(Read article summary)
If a referendum on South Sudan's independence ends with a vote for secession from Sudan, internal clan rivalries could complicate the transition to independence.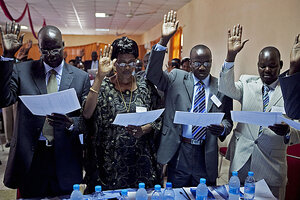 Pete Muller/AP
"You are the same people," the southern Sudanese vice president Riek Machar remarked to a conference room full of elites and traditional leaders from the Lou and Jikany clans of the Nuer tribe. "What is the problem?" he asked, seeming to be genuinely perplexed as to the causes of continued conflict between these two groups.
"If it is the land, if is the water, if it is the fish, can we not discuss it?" the vice president, himself a Nuer from a different clan native to the areas west of the Lou and Jikany peoples, continued. "Water has been here all this time. The fish have been here. So why is there conflict now?"
By "now," Machar meant in relatively recent times. He noted that there have been serious problems between the Lou and Jikany people in the area of the south which they share since 1993, when clashes between the Lou and the Cie Kuek (a section of the Jikany clan) left a lasting impact of displacement along the Sobat River that remains a conflict trigger today.
This particular area of Nuerland -- bisected by the Sobat river which runs through the heart of the "Sudd," Africa's largest remaining intact wetlands -- has suffered from internal insecurity for decades. Cattle raids, revenge killings, problems between local administrators, boundary disputes, displacement… these are just some of the problems caused by the persistent mistrust and enmity between these two clans of the same tribe.
A friend working in this area explained to me that the area which the Lou and Jikany share, called Wanding, is strategically situated along the fertile fishing grounds and swampy areas of the Sobat. Both communities rely on this area because they are primarily pastoralists, which make them reliant upon cattle grazing grounds (known as toic) and the river for fishing. When drought comes to the Wanding area, fishing becomes more difficult and the toic shrinks, which sparks conflict between the Lou and Jikany communities due to the increased competition for limited resources.
---