Global news agencies uneasy over South Africa's press freedom
(Read article summary)
The Associated Press, Reuters, Bloomberg, and Agence France-Presse sent a letter to South African President Jacob Zuma to express concern about a proposed law that could limit press freedom in South Africa.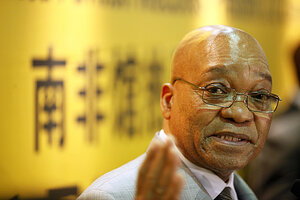 Eugene Hoshiko/AP
Johannesburg, South Africa
Four of the world's top syndicated news services have added their voice of concern over South Africa's plan to create a media tribunal to punish inaccurate reporting, and to limit scrutiny to much of the government's activities through a so-called "protection of information" bill.
In their letter, sent to President Jacob Zuma last week and made public this week, top editors from the Associated Press, Reuters, Agence France-Presse, and Bloomberg wrote, "We fear the proposed law on protecting information could restrict the free flow of information, even though it stipulates it is not intended to allow officials to conceal information simply because its publication might be embarrassing."
The bill that proposes stiff penalties of up to 25 years in prison would give a broad array of officials the ability to classify information, the editors added, noting, "We fear this could conflict with South Africa's constitutional commitment to freedom of the press and other media."
The editors also expressed concern about plans for a media appeals tribunal, which the editors said "would undermine the media's independence if the tribunal were to answer to Parliament or any arm of government."
---
Follow Stories Like This
Get the Monitor stories you care about delivered to your inbox.