How genetically modified seeds can help - and hurt - Africa's farmers
(Read article summary)
Proponents say genetically modified seeds arm Africa's family farms in the war against pests, droughts, and depleting soil. Critics cite concerns about biodiversity and health.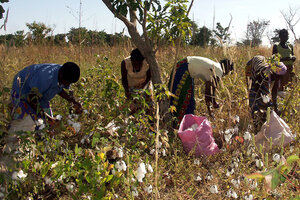 Ahmed Ouoba/Panapress/Newscom
Just how controversial can a sweet potato be?
Well, if you're talking about the Nairobi-bred Bt Sweet Potato, which is genetically-hotwired to sheen itself in an antiviral protein coat, it's hard to fathom a more contentious root vegetable.
Unless, perhaps, you're discussing the sweet potato's subterranean cousin, West Africa's Bt Cassava plant. Geneticists rewrote that crop's DNA to fight an endemic virus. Then there's Tanzania's Bt Cotton, which conveniently secretes its own toxic bacterial pesticide. The toxin shoos flies, but is that the kind of thing you want your tube socks made of?
Proponents of these lab-perfected plants say they arm Africa's family farms in their war against pests, droughts, and depleting soil. Climate change, they add, has hit the arid and famine-prone areas of Africa harder than most other regions of the world, altering regular rainfall schedules and causing failed harvests. Also, say backers of genetically modified (GM) seeds, without hardier seeds, the planters of the continent are essentially being asked to foot America's gigantic carbon bill.
But in its latest report, the African Center for Biosafety in Johannesburg, South Africa argues the counter case: Far from sowing prosperity for small farmers, South Africa's adventure into genetically modifying corn has bankrupted its agriculturalists.
The breadbasket's corn planters, the report says, have been left with a surplus of corn that they can't sell, thanks to international bans on GM crops.
---