South Sudan referendum, by the numbers
(Read article summary)
The South Sudan referendum, when southern Sudanese will vote whether to become independent of Sudan, is getting closer. Below is a number of statistics that illustrate how difficult the logistics will be.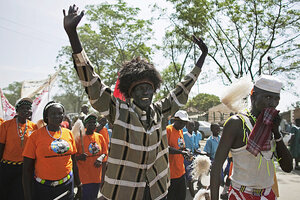 Pete Muller/AP
98 is the number of days left before the highly-anticipated South Sudan referendum is slated to take place on Jan. 9, 2011.
The 15th of November is the day when voter registration is expected to begin, according to the South Sudan commission chairman Mohammed Ibrahim Khalil – a three-week delay to allow for registration forms to be distributed to the 3,600 (yet-to-be-established) registration centers.
The 9th of October is the day when voter registration should have been completed, according to the Comprehensive Peace Agreement, which specifies that voter registration should be completed three months before the vote.
$370,000,000 is the budget the referendum commission approved last Tuesday for implementing the vote, an important step that will allow the commission to begin recruiting and training referendum staff.
79 is the number of county referendum bases that the United Nations peacekeeping mission in Sudan, or UNMIS, will set up in South Sudan (one in each county) to assist with the conduct of the referendum, including obtaining and distributing referenda materials.
16 is the number of helicopters UNMIS has available for the distribution of materials to remote areas of the South that are inaccessible by road; the peacekeeping mission has asked for eight more helicopters.
---