Sudan referendum: Leaders meet to resolve problems in Abyei
(Read article summary)
The Sudan referendum could be derailed if issues in the border region Abyei are not addressed before the January vote.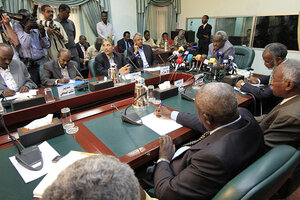 Mohamed Nureldin Abdallah/Reuters
Four days into the Abyei talks taking place in Addis Ababa, little information on the progress of negotiations has leaked – except perhaps that the parties have not yet arrived at a satisfactory agreement. Involved in the talks are representatives from the two ruling Sudanese parties, the US, and two Sudanese communities who arguably have the most at stake – the nomadic Misseriya, who seasonally migrate into the Abyei area for grazing lands and water, and the Ngok Dinka, who are considered the legal residents of Abyei. The talks are revolving around the issues that the CPA did not specify – namely the question of who should be eligible to vote in the contentious region's referendum – and will likely attempt to address the post-referendum concerns of the Misseriya and the Ngok Dinka, whose buy-in is critical to holding a peaceful and credible vote.
Public remarks from the Obama administration have largely been close-lipped, with hints that the negotiations have been challenging. US State Department spokesperson P.J. Crowley dropped euphemistic adjectives to characterize the proceedings, calling the talks "spirited" and "frank" while Secretary of State Hillary Clinton said Tuesday that "it is difficult to deal with Khartoum."
---
Follow Stories Like This
Get the Monitor stories you care about delivered to your inbox.