Tensions in Western Sahara boil over, could derail talks
(Read article summary)
Shortly before talks began in the US on Western Sahara, Morocco authorities raided a protest camp in the region, possibly undermining talks between Morocco and the Polisario Front, which wants a referendum on independence.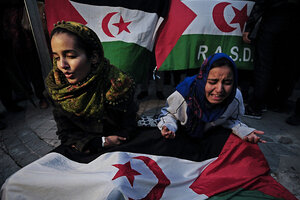 Alvaro Barrientos/AP
Two and a half weeks ago, Christian Science Monitor correspondent Drew Hinshaw warned us that the Western Sahara, headed toward peace talks but plagued by conflict, was poised to "heat up." This week we are seeing the fulfillment of that forecast, as opportunity and crisis confront the region.
First, the opportunity:
UN-mediated talks on Western Sahara's future began outside New York yesterday. The starting positions are the Moroccan government's preference for Western Saharan autonomy, and the Polisario Front's desire for a referendum on full independence for the region. Commentators Anna Theofilopoulou and Jacob Mundy find cause for hope in the talks, writing that active American, French, and Spanish involvement could help bring about a resolution after thirty-five years of strife. Edward Gabriel and Robert Holley, who served in Morocco under the Clinton administration, disagree with Theofilopoulou and Mundy on the specifics but also see a path toward peace. A lot of knowledgeable observers, in other words, believe the talks could, under the right circumstances, bear fruit.
Crisis, however, has already cast a shadow over the talks. Yesterday, even before representatives of Morocco and the Polisario came together in New York, Moroccan forces raided a "protest camp" near Laayoune in Western Sahara.
---