This just in: Sudan referendum may not lead to war
(Read article summary)
In an effort to keep readers clicking, editors and journalists may be making the climate of the Sudan referendum appear more dire than it actually is.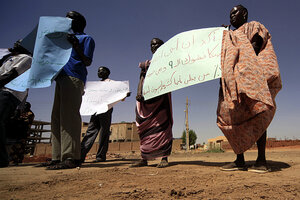 Mohamed Nureldin Abdallah/Reuters
If you've read any news articles lately about Southern Sudan's upcoming self-determination referendum and are basing your opinion on where Sudan is headed in the immediate future solely on this information, you would be hard pressed not to have a quite negative outlook.
Bec Hamilton already did some sharp myth-busting that shows that calling the contested border region of Abyei "oil-rich" is an outdated and inaccurate statement. As a follow-up effort, I've collected some snippets – I'll call them fiery phrases – from recent articles on Sudan (one below written by me):
"Rising Tension and Frustration As Sudan Referendum Nears"
"…the war on the horizon might not be the one that everyone is expecting"
"With war again looming, [Abyei] could become a flashpoint for the world's next genocide"
And trust me, the list goes on. These news clips illustrate the tendency – rather, modus operandi – of the international media coverage of Sudan to highlight the worst case scenarios surrounding the key upcoming events instead of the best possible outcomes. Since I'm a member of this media corps, I can affirm that this is the case. My short experience to date as a journalist has taught me that – surprise! – editors do not think a story with a headline to the effect of "All looks set to go smoothly in Southern Sudan's crucial independence vote" is newsworthy. Instead, a headline to the effect of "tensions rising," "concern mounting," and the like is what editors want to read, because they know it is what readers online around the globe will be likely to click on as they skim the news.
---