The fight over Malawi's flag
(Read article summary)
Malawi's president changed the country's flag, and the country's Roman Catholic Church clergy are furious. Meanwhile, Malawians wonder whether the new flag even represents their identity.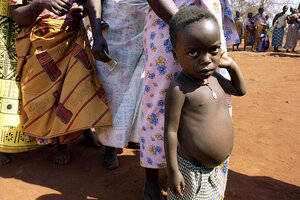 Andy Nelson/The Christian Science Monitor
I blogged earlier on the debate over Malawi's flag, with a quick tone that angered two commenters. So I'm going a second round, incorporating their suggestions – and some political particulars they've brought to light.
The Catholic Church just came out in opposition to the Malawian president's seemingly unilateral decision to change Malawi's flag – a decision that's apparently ignited controversy. The changes look minor – a reversal of the position of red and green bands, the shift from a red rising (or setting?) sun to a white whole ("risen") sun. The symbolism? "We cannot permanently live in the past," Malawian President Bingu wa Mutharika was quoted by one news source as saying. "The new flag depicts the status of our development."
That's right, Malawi is developed! Or so says its president, in what one person described a "self-congratulatory" tone. I'd have to agree. Malawi's ranking as the 17th least developed country in the world in UN's Human Development Index released last week suggests this is all a little... optimistic?
---