Malawi gives gay couple 14 years in jail; public cheers
A Malawi court today sentenced a gay couple to 14 years in jail for practicing homosexuality. The case has brought criticism from the US and Europe, which provide more than 40 percent of Malawi's government budget.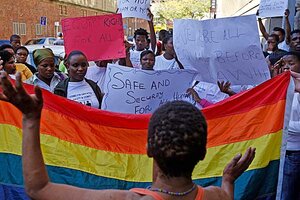 Schalk van Zuydam/AP
Malawians appear to widely support Thursday's sentencing of a gay couple here to 14 years in prison for practicing homosexuality, despite widespread condemnation of the case from human rights groups and foreign governments.
Many Malawians say being gay is unnatural and unpatriotic, and they welcomed the jail sentence as a repudiation of secular culture.
"These practices should not be allowed in Malawi," says Rose Chipumphula, 25, a mother who lives in the village of Ntcheu. "Let us be proud of our culture. We should at all costs avoid importing cultures and practices that will harm us in future."
In a country where 80 percent of the population practices Christianity, homosexuality is widely condemned on religious grounds.
"My religion and my church are against same sex marriages. The Bible says he who finds a wife has found a good thing… It does not say the man who finds a man or a woman who finds a woman. This whole thing is un-Christian," says Chipumphula.
At a church function here in April, President Bingu wa Mutharika said homosexuality is a new phenomenon in Malawi and asked priests to pray for the country to rid it of this "unMalawian" practice. Information Minister Sausten Namakhwa has said the government will arrest any homosexuals who identify themselves.
Criticism from financial donors US, UK
---