US legislation on Congo's 'conflict minerals,' explained
(Read article summary)
A congressional staffer explains recently passed legislation that aims to reduce Congo's "conflict minerals" industry by making it easier for activists to target US companies who import minerals from the Congo.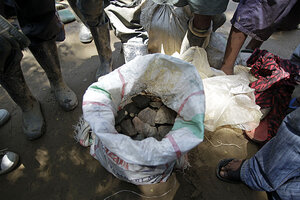 Schalk van Zuydam/AP
I was on a panel on Friday on conflict minerals, which was very instructive. Toby Whitney, the legislative director of Washington's Rep. Jim McDermott (D), was there. McDermott was one of the main sponsors of the "Congo conflict minerals" bill signed into law by President Obama in June this year.
I learned a few things.
First, and most importantly, there had been some debate among experts about the exact provisions of the bill. Toby clarified: The bill does not prohibit companies from buying conflict minerals. Instead, it requires them to carry out due diligence on their supply chain and to report back to the Securities and Exchange Commission what measures they have taken to find out whether they are importing minerals that fuel conflict in the Congo. "It's a name-and-shame bill," Toby said. There will only be fines for companies that do not do good reporting and auditing. Companies that carry out all the correct due diligence and report back to the SEC that they are indeed importing conflict minerals will not be fined.
---