Sudan referendum voter registration kicks off
(Read article summary)
Voter registration for the upcoming South Sudan referendum began amid fears that large registration turnout could make it harder to reach the voter turnout threshold necessary for the referendum to be considered legitimate.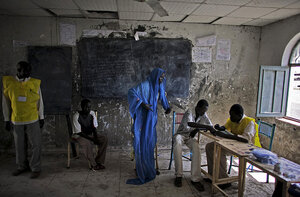 Pete Muller/AP
After months of delay resulting from political disagreement between the two ruling Sudanese parties, voter registration for South Sudan's referendum belatedly began yesterday in Sudan and in the eight countries around the world that host the largest southern Sudanese populations. Registration will run for 17 days, until December 1, with polls set to open on January 9.
In the capital of Juba, where several media reports noted long lines of eagerly waiting voters, South Sudan President Salva Kiir showed off an inked finger after registering as a voter himself. "A referendum happens only once. People must come out en masse otherwise it would mean people fought and died for nothing," he told Al Jazeera, referring to the 20-year civil war that ended in 2005 with a peace deal that gave southerners the chance to vote for independence or secession.
In the North, according to Reuters, the registration was comparatively "subdued."
During the registration process, voters are required to mark their fingers with permanent ink so that they cannot register more than once. During Sudan's elections in April, the use of non-permanent ink in some polling stations led a handful of domestic observer groups to allege fraud. In January, voters are supposed to cast their vote at the station where they registered. This process was also muddled during the April elections, when many voters returned to their registration site to find that they were required to vote elsewhere.
---