In Congo, the presidential candidate field is taking shape
(Read article summary)
With opposition parties in the Democratic Republic of Congo preparing to select presidential candidates, the 2011 presidential election is gearing up.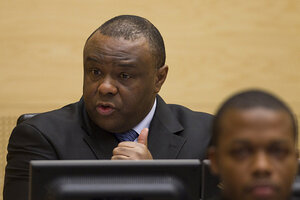 Michael Kooren/AP
Although President Kabila said that the election campaign will not begin until mid-2011, one can consider that the unofficial race kicked off today with the arrival of veteran opposition leader Etienne Tshisekedi. He had been in "medical exile" for three years in Belgium. According to preliminary reports, several thousand people turned out at the airport to await the 77 year-old (he turns 78 next Tuesday). Many more lined the streets between the airport and his residence in the Limete suburb.
Tshisekedi's UDPS party will be holding their first national congress next week, and their leader will have to try to mend the cracks in the party that have emerged to his alleged less-than-democratic rule, as well as the frustration than many Congolese still feel for his boycott of the 2006 elections. In the east, where he was never as popular as in his Kasaian homeland and Kinshasa, "TshiTshi" is still derided for his alliance with the Rwandan-backed RCD during the Inter-Congolese Dialogue in 2002. Judging by recent comments in the Belgian newspaper – he called Kabila "a genocidaire" – the elections will be hotly contested.
---