KFC aims to double revenue in Africa by 2012. The colonel would be proud.
(Read article summary)
KFC this week became the latest iconic American company to make significant moves into Africa, following expansion by Coca-Cola and Walmart.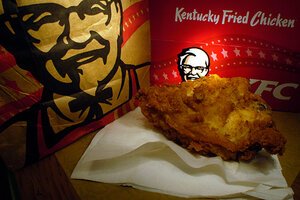 Richard B. Levine/Newscom
From a legendary hillside in the Appalachians, one Colonel Harland David Sanders took his chicken to the planet.
Since the seventh-grade drop out turned his service station grease pit into a 1950s rest area standard, the franchise has taken its finger lickin' goodness to more than 70 countries.
Now, KFC is looking to double its African operations to 1,200 branches, bursting into untapped countries like Nigeria, Ghana, Mozambique, Namibia – places many Americans more readily free-associate with virgin rain forests and "The Gods Must Be Crazy," not interstate exit cuisine.
"Africa wasn't even on our radar screen 10 years ago, but now we see it exploding with opportunity," said David Novak, Chairman and CEO of Yum! Brands Inc., which owns KFC and Pizza Hut.
America's iconic brands go big into Africa
---