Although film is on the rise in Africa, music still holds its own
(Read article summary)
For the younger, more urbanized generation in Africa, film may be the dominant artistic medium, but for the continent's older generations, music remains central to identity.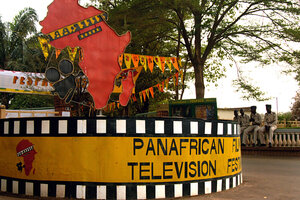 Candace Feit/AP
Is film now Africa's dominant form of artistic expression? The Economist asserted this proposition in an otherwise reliable article on Nollywood, the Nigerian video industry. "Film is now Africa's dominant medium, replacing music and dance," The Economist writes. Can this be so? Perhaps for people under 20 years old, a new generation of more urbanized Africans who comprise as much as 45 percent of the population of many countries south of the Sahara. For these African youth, the village can seem remote, making dance a forgotten art. Music, meanwhile, is adulterated, a melange of hip-hop, rock, reggae and other "imported" styles.
For older Africans, however, music is undeniably the form of expression most attuned to identity. One of my closest friends, from southern Africa, is a mighty technical brain and a power in media in his own country. And yet he pines away to perform his original songs. Another friend, a university professor who works in a most prestigious university in the US, is besotted by Franco. He can recite chapter and verse from Rumba on the River, the classic account of Congolese music. "I think there is story to be told about the record player as Africa's true information revolution and Franco as its Field Marshal," he reminded me on Christmas by e-mail.
---
Follow Stories Like This
Get the Monitor stories you care about delivered to your inbox.