South Sudan's leader, channeling Mandela, calls for forgiveness for north
(Read article summary)
At the end of voting in South Sudan's referendum, leader Salva Kiir called on the South Sudanese to forgive northern Sudan for past grievances, just as Nelson Mandela asked black South Africans to do at the end of apartheid.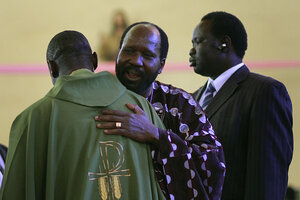 Jerome Delay/AP
In a remarkable move at the close of a national referendum on seccession, Salva Kiir, the political leader of Southern Sudan, has called on his people – from inside a Catholic Church no less – to forgive the national government of Sudan for its decades of violence again Southerners. "May we, like Jesus Christ on the cross, forgive those who have forcefully caused their deaths," Kiir reportedly said.
Southern Sudanese are believed to have vote overwhelmingly to form a new nation, though full election results are not expected until next month. In choosing the path of forgiveness, Kiir, while following his own conscience, is echoing an approach successfully followed by Nelson Mandela of South Africa.
The declaration by Kiir follows an equally remarkable statement by al Bashir, the head of Sudan's Khartoum government, in which he signaled that he is prepared to let the South hive itself off peacefully. In a visit to Juba, the largest city in the city, al Bashir said he preferred a unified Sudan but would "respect" the South's right to secede.
"Ties between the north and the south are very huge," he said. "We spoke to our brothers on how to keep those ties, even if we have two states."
---