Renegade Ivory Coast leader Gbagbo won't pay off debts, say opponents
(Read article summary)
Ivory Coast President-elect Alassane Ouattara accuses renegade President Laurent Gbagbo of paying his loyalist armed forces while neglecting to pay international creditors.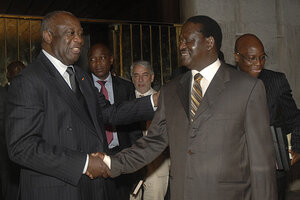 Emanuel Ekra/AP
Alassane Ouattara, the former International Monetary Fund economist that just about every world leader recognizes as Ivory Coast's president-elect, doesn't think his opponent will ever pay his bills.
Specifically, he doesn't think renegade President Laurent Gbagbo, who refuses to concede defeat in the country's Nov. 28 election, will honor the $29 million dollar payment that Ivory Coast owes its debtors by Jan. 29.
"If they wanted to pay, they would have done so," Mr. Ouattara told Bloomberg yesterday. He also said Mr. Gbagbo's administration has recently withdrawn millions of dollars "to pay salaries, to pay mercenaries, and to take money out of the country instead of paying what they have to pay to the London Club, so clearly they have no intention of paying," referring to the group of creditors who hold Ivory Coast bonds.
Paying off Ivory Coast's government debt might be a way for Gbagbo to kindle some shred of legitimacy in the eyes of the West. But Gbagbo, an ex-history professor fluent in neo-colonial rhetoric, seems less and less concerned with such intercontinental statecraft.
---