California leads US in taking a swing against Congo's conflict minerals
(Read article summary)
California is the first state to consider its own legislation to ease conflict minerals mined in the Democratic Republic of the Congo out of the supply chain for electronics.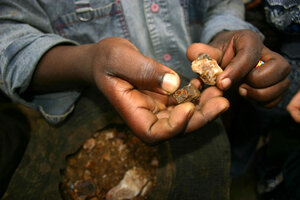 Scott Baldauf/Christian Science Monitor
On the heels of US Congressional action to address Congo's conflict minerals, California recently became the first state to consider legislation to regulate companies doing business in Congo. Last Friday, California Senate Majority leader Ellen Corbett introduced groundbreaking legislation that would require companies seeking procurement contracts with the state to comply with federal law to exercise due diligence on their supply chains to avoid supporting conflict in the eastern Democratic Republic of Congo and the broader Great Lakes region of Africa.
Specifically, SB 861 requires companies that file a disclosure with the US Securities and Exchange Commission about the conflict minerals in their products, to meet federal standards. If adopted, the California legislation would deny companies procurement contracts with the State of California for failing to meet the requirements of the rules promulgated by the SEC.
---