In Ivory Coast, Gbagbo cranks propaganda machine into full gear
(Read article summary)
Ivory Coast state television has lost what little subtlety it once had and transformed into the communications arm of Laurent Gbagbo's desperate government.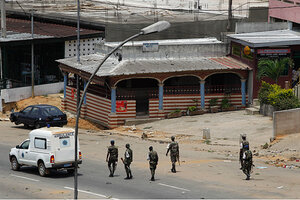 Rebecca Blackwell/AP
Three months into the presidential standoff in Ivory Coast and the propaganda machine is in full swing, as is clear from this message, one of many now broadcast daily on state television:
"France..." (cue photo of Nicolas Sarkozy)
"...and the UN," (cut to shot of peacekeepers)
"...are allied with the rebels and have declared war on Ivory Coast," (que video of rebel soldiers shooting)
"...murdering innocent Ivorians..." (show graphic images of mangled dead bodies)
"Now is the time to protect our country." (play video of angry youths manning a barricade, armed with machetes)
I've always been intrigued by propaganda: old British World War II posters, American public information films from the cold war. But this year, in Ivory Coast, where the propaganda is diffused by the sitting president who refuses to leave power three months after losing an election, I'll never see it the same way again.
Think you know Africa? Take our geography quiz.
Ivorian state television has always broadcast something vaguely resembling what we think of as news. It's normal in this country where standard operating procedure is to pay journalists to come to your event and report on it. And like many west African countries, TV knows who's paying the bills, so heaping praise on "His Excellence" Laurent Gbagbo is always a good bet.
---